Happy Valentine's Day!
Hearts are for Valentine's Day and anytime of the year you want to say "I Love You" to a special someone. Here are some DIY ideas for spreading the love to your family and friends.
Heart Maps
This project at Curbly, takes its inspiration from the work of a creative English designer who is handy with the scissors and glue. Use this idea as a jumping off point. You can use maps, magazine pages, or favorite photos for this project. Cut out the heart shapes or use a punch, glue onto heavy paper, and frame.
Felt Heart Wreath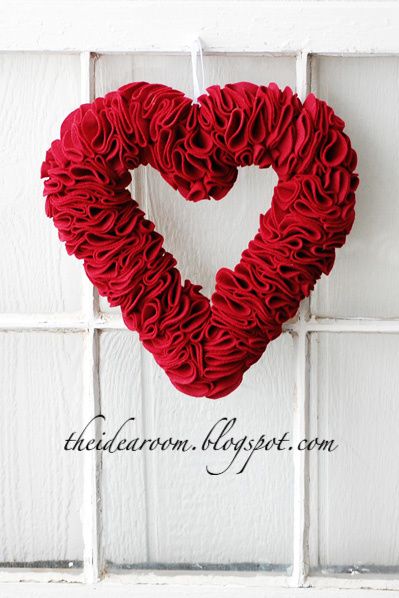 Over at the IdeaRoom blog, Amy Huntley created this super cute heart wreath. She says that it takes some time but is very easy to do using craft felt. Find the instructions on her blog.
Scrappy Heart Quilt
This quilt from Cindy Carter's blog uses a slightly abstracted heart at the center of its blocks. You can download a PDF of the pattern on the blog.
Sewn Paper Heart Cards
The Purl Bee has made up some cute sewn cards. Full instructions are available on the website. If you can't find paper with the torn edge as pictured in the instructions, you can create your own by using a paintbrush to "paint" a thin line of water down your paper and then tearing off the excess paper.